PROVIDING BOTH IMAGE AND FUNCTIONALITY
Your parking lot is the "Welcome Mat" to your business!
Mother nature can wreak havoc on asphalt, making highly trafficked areas unusable due to potholes and cracks that heavily damage your property.  Expert  advise, installation, and care is a key to maintaining the integrity of asphalt year round, especially during the harsh winter months.  McNally & Sons offer quality landscape, asphalt, and concrete maintenance services.  We have the expertise to help meet all your needs.
Crack Seal
Asphalt maintenance goes beyond just sealcoating.  A lot of damage to asphalt can occur with water intrusion through cracks in the asphalt.  Crack filling is an essential application in addition to seal coating cracks in asphalt.  Sealant is supplied in a solid form a resilient adhesive and flexible joint compound.  Which meets all Federal and State specifications and regulations.
Seal Coat
Sealcoating is essential in pavement preservation and extending the life of your asphalt pavement.  There are many benefits of sealcoating asphalt, including improving visual aesthetics, resisting oxidation from the sun, replacing eroded surfaces, extending the life and optimizing the overall value of the asphalt pavement.  A mineral filled asphalt emulsion pavement sealer designed for sealcoating, protecting and beautifying all types of asphalt and blacktop driveway, parking lots and more.  A regular scheduled sealcoating program will more than double the life of your asphalt and blacktop.  Using a coal tar emulsion which meets and exceeds all requirements of the FAA and the Federal Government specifications.
Asphalt
Regardless if you need asphalt repair due to potholes/chuckholes, asphalt patching, milling or speedbumps.  McNally & Sons uses the state of art equipment and technology to complete any size job.  Our clients openly admire our constant initiative to go above and beyond their expectations of quality service and workmanship.  Our licensed concrete and asphalt pavement industry.  Our asphalt services include repairs, restoration, repaving, black asphalt work, maintenance, and much more.  Our asphalt maintenance services are endless; just like our determination to achieve great results, reputation, and client satisfaction.
Asphalt & Striping Services 
Sealcoating

Asphalt Repairs

Asphalt Overlays

Parking Lots

Potholes & Chuckholes

Speedbumps

Crack Repair

Walking Paths & Golf Carts

Asphalt Milling

Excavation

Athletic Courts & Tracks

Warping & Buckling Repair
Low Spots & Puddle Prevention

Freeze Thaw Repair

Apartment Complexes

Commercial & Industrial Lots

Multi Housing Communities

Restaurants

Financial Institutions

Excavation

Athletic Courts & Tracks

Warping & Buckling Repair
Call 765-378-7145 McNally & Sons Today!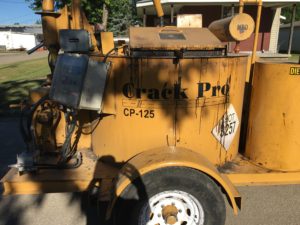 BEFORE Seal Coat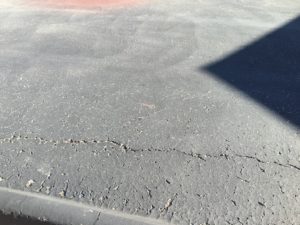 AFTER Seal Coat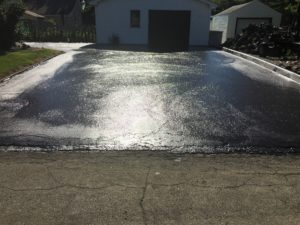 .
.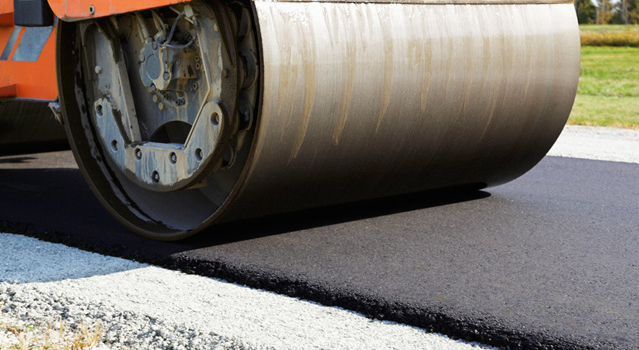 See Us in Action – Seal Coating
 See Us in Action – Crack Seal
Benefits and Advantages
Eliminates Weather Damages

Enhances the Appearance of Pavements

Resistant to Oil and Gas Drippings

Prevents Oxidation Corrosion, and Rust

Longer Lifespan

Professional Grade Rubber Additive

Better Adhesion Properties

Prevents Water Seepage

Deep Rich Black Color

Low Cost

Bituminous Asphalt Protection (like sun screen)

Only a Few Cents Per Foot

Outstanding Surface Preservation

Low Maintenance

Reduces the Need for Expensive Repairs
HAVE YOUR HOME OR BUSINESS LOOKING GREAT AGAIN
Over the years, the weather and elements eat away at asphalt and eventually take their toll. At McNally & Sons LLC, we have the tools, equipment, and experience to evaluate your damages and take the necessary steps to have your surfaces looking great again. Whether your property needs asphalt repairs or resurfacing, you'll get exactly what you need at reasonable rates.
PROTECT YOUR ASPHALT SURFACES
Hot flex crack repair

Preventative treatments

Moisture penetration protection

Temperature protection

Foreign debris protection